What is integrative medicine?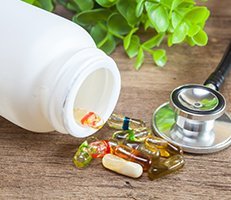 Thirty percent of adults in the U.S. use non-conventional medical treatments. Health care approaches outside of traditional, Western medicine are called "alternative" or "complementary." Integrative medicine combines conventional and alternative therapies for a more innovative approach to health and wellness.
Integrative medicine has grown in popularity over the last few decades as patients look for care that addresses patients as a whole person, not just a body part, symptom, or condition.
Dr. McIlveen, Alyssa Jastrzebski, and Diane Moon use safe, evidence-based alternative treatments that consider more than just your physical concerns. Integrative treatments also address emotional and psychological factors that play a part in your health and wellness.
What are integrative medicine treatments?
Dr. McIlveen, Alyssa Jastrzebski, and Diane Moon offer a wide variety of natural products in North Carolina Weight & Wellness's in-office and online health boutiques. All products are carefully researched and tested for safety and effectiveness. Available products include:
Botanicals
Probiotics
Vitamins
Minerals
As part of your health care plan, Dr. McIlveen and Diane Moon may recommend complementary therapies like:
Deep breathing
Homeopathy
Meditation
Massage
Special diets
Tai Chi
Yoga
Is integrative medicine right for me?
Integrative medicine is different than any medical care you've had before. So, how do you know if the combination of traditional Western care and alternative treatment is right for you?
If you answer yes to any of these questions, integrative medicine may be the way to help you look and feel your very best:
Do you want to know the underlying reasons for why you aren't feeling well?
Do you want to make real, lasting lifestyle changes for improved health?
Do you believe that not everything can be fixed with a prescription pill?
Do you want access to treatments beyond what conventional medicine can offer?
Do you believe that mind, body, and spirit are connected and all influence your health?
Do you believe natural products and treatments can be highly-effective?
Are you fed up with cookie-cutter medicine?
You're unique and deserve personalized healthcare that addresses every aspect of your body, health, and lifestyle. Call or click to schedule an appointment with integrative medicine doctors at North Carolina Weight & Wellness today.